Car Window Tinting Bundoora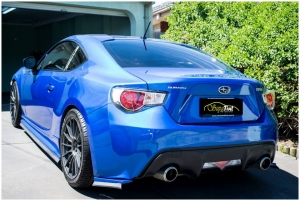 Want to upgrade your car's look? Our popular imported car window films are a great choice to go for. Our car window tinting service can make your drive cooler and gives your car a sleek look, so that you can drive in style and comfort. As experts in car window tinting, Supatint have been helping customers in Bundoora for their car window tinting needs.
We have a team of licensed window tinting professionals who professionally install the film for you. With a strong focus on quality and superior look, we install the imported car window films, which would elevate the look of your car and provide you with multiple useful amenities.
If you're confused about the choices, leave it to us, we help you make the right choice.
Is your home suddenly heating up? Perhaps your windows could be the reason. Frequent exposure of sun may weaken your glass windows and allow the harmful UV radiation to enter your house. As a result, your energy bills could soar up, and you will end up getting migraines, and even eye pain. Bright sunlight glares can damage your eyes, and even lead to light headaches.
At Supatint, we offer residential window tinting service in Bundoora at an affordable rate. We use only high-quality materials for tinting, and ensure your house is thoroughly protected with a high-quality shield. Our residential window films are designed with sun glare protections, acts the second panel of glass for you large and beautiful windows.
Adding commercial window films for your building is the best thing you can do. It blocks out the harmful UV rays, keeps the atmosphere cool, and helps to lower your energy bills, and increases employee productivity with reduced distractions.
If you can achieve these interesting benefits with a commercial window film, why wait? Call us and get your windows a sleek look. Want us to help you with high-quality window films? Give us a call on 0411 450 424 today.