Car Window Tinting South Morang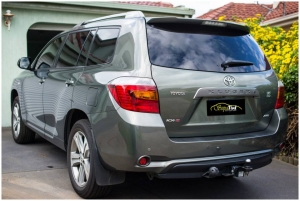 Searching for a reputed car window tinting service in South Morang? Here we are. Supa Tint has years of expertise and has been offering high-quality car window tinting that's just right for your car. Right from improving its aesthetics to providing safety and protection to you and your interiors, we have got you covered. Our team of car window tinting professionals make sure that your car looks the best with imported window films.
Most importantly, window tinting protect your car's upholstery from fading, and it provides a cool atmosphere. From the privacy and safety point of view, tinted car window protect your vehicle from theif and some curiously starring audience. Also, our high-quality window films are sturdy and can prevent your glass from scattering in case of any accidents.
Whether you want to protect your vehicle from harmful UV rays, reduce glare or want to achieve an aesthetic look, we can help. One of our experienced car window tinting specialists will come to the location of your choice and get the tint installed in a professional manner. Available in a variety of shades, our tint minimises heat and facilitates ultraviolet rejection, keeping your vehicle cool inside.
Need us to help you with car window tinting in South Morang? Call us on 0411 450 424 today.