Car Window Tinting South Morang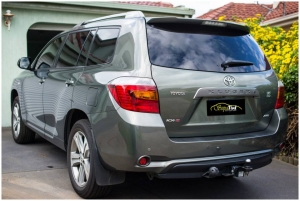 Searching for a reputed car window tinting service in South Morang? Here we are. Supatint has been offering high-quality car window films that are perfect for you. Right from improving its aesthetics to providing safety and protection to you and your interiors, we have the best car window films for you. Our team of car window tinting professionals makes sure that your car looks the best with imported window films.
Most importantly, window films protect your car's upholstery from fading, and it provides a cool atmosphere. From the privacy and safety point of view, our window films protect your vehicle from burglars and some curious passerby crowd.  Also, our high-quality window films are sturdy and can prevent your glass from breaking in case of any accidents.
Want to upgrade your glass windows at home?  We also provide residential window tinting services to our customers in South Morang and its surrounding areas. Our window films provide the cooling effect that you want inside your house, a stylish look, enhanced privacy, and also maintains the safety of your house.
During summer, energy bills tend to soar high. Our window films keep the heat at bay from entering your home. Window films act as a second panel of glass windows. You can make your glass windows upgrade with our collection of residential window films.  We provide the most unique and decorative window films that are virtually invisible, UV Control, and corrosion resistance.
Commercial window tinting is a cost-effective solution for business and it has many benefits. Most commercial buildings have large glass windows that make it beautiful and inviting. However, with a sudden rise in temperature can make your space uncomfortable.
We have an extensive collection of commercial window films to improve your building's look and block-outs the harmful radiations from entering your building and help reduce your energy bills.
Need us to help you with window tinting? Call us on 0411 450 424 today.